Are you planning to buy bangles? Are you under a budget? Then we have the perfect solution for you. You can get the low budget and stylish 8 gram gold bangles. You can wear them effortlessly for any attire and also flaunt them without burning your pockets.
We have collated the special and latest designs in the market under the 8 gram category which you are sure not to miss.
This bangle is the perfect match of elegance and beauty, which crafted with a simple design but stands out for its cuteness.
If you love nature then then try this leaves designed bangle for its pure intricate craftsmanship.
If you want a pinch of color, then choose this contemporary style bangle with a classic touch.
If you are looking something modern, to go with your new office wear, then go for this stylish kada style bangle.
If you like traditional bangle designs, then choose this one which is perfect for any traditional wear.
This is another edgy and chic-looking bangle, with that stunning feature. Go for this one, if love modern looks.
Who doesn't love hearts? Own this simple but lovely piece if you love heart designs. Pair it with similar earrings for a complete look.
For those who love flowers, this is a contemporary one with a modern touch. Two cute flowers designs expertly adding glamour to the whole look.
This rope design bangle should chosen by all those people who love traditional designs.
Another modern bangle, who love simple designs.
If you want to add your initial to your bangle, then choose this S sign bangle.
Add black and white colors, for a classic touch to the bangle to match your similar costume.
Another cute design for youngsters.
White gold is also becoming popular nowadays, so this one designed with shades of white gold with a contemporary design.
Another leaf bangle but with a modern design.
A sun shaped design bangle who love signs. This is perfect for any modern costume.
If you love hangings, then choose this bangle with hangings. This will suit all traditional designs and is best for any party.
A cute pink flower is loved by everyone. Get this one if you love flowers.
More and more youngsters are looking for unique designs and want to own one-of-a-kind pieces. This is one of them.
If you love intricate designing, then choose this one. The flowers has been designed expertly and looks beautiful and lively. Flowing are few flower designed bangles.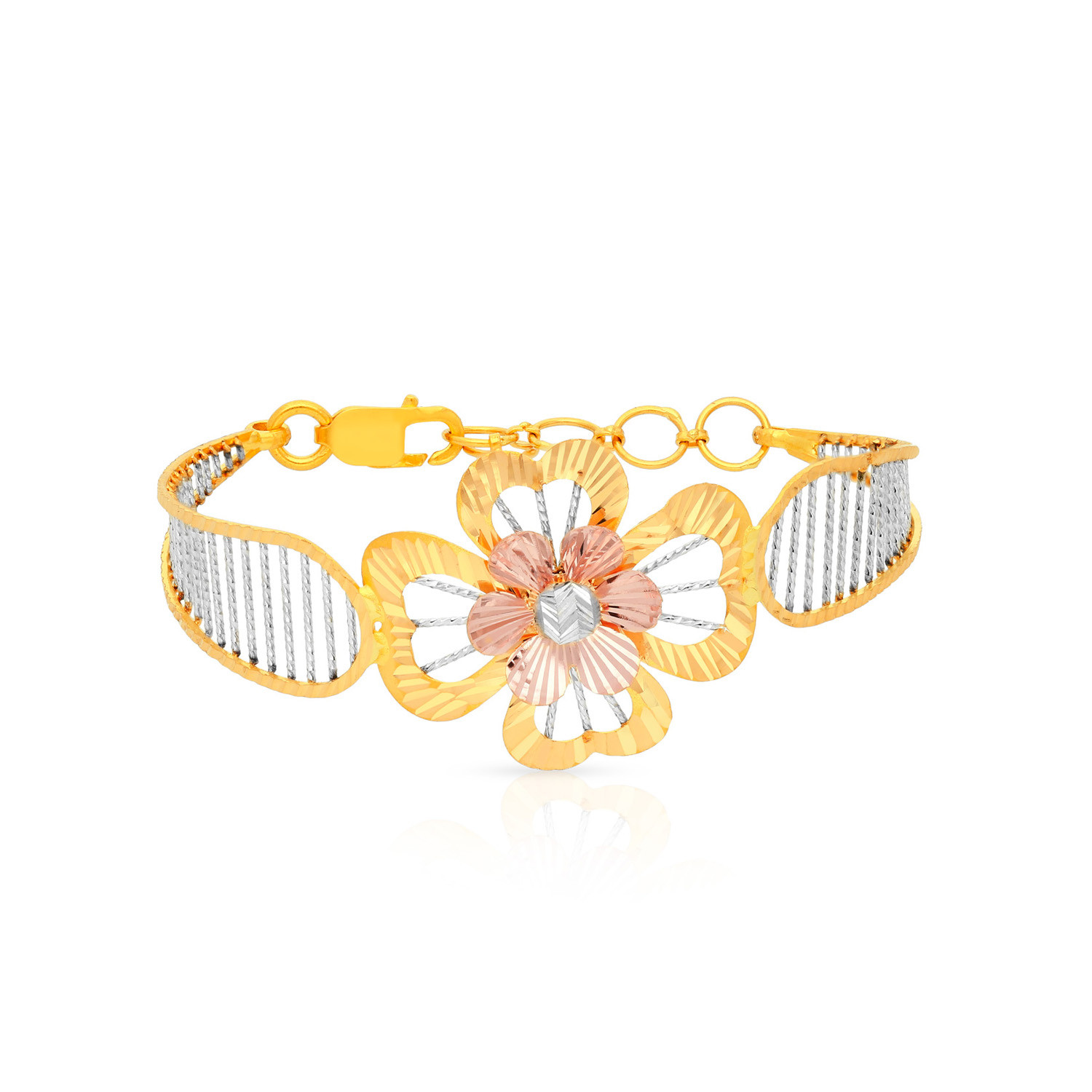 You can this one if you love simple stones.
A double heart is a double delight. Every woman will love to hold this one for a long time and this never goes out of style.
Few other special designs for woman who adore new styles. They look gorgeous and very elegant. They give you modern vibes.
If you want a feminine appeal, then choose this bangle with flowers. This is has been designed with white gold and rose gold as well. It gives a completely elite and sophisticated look.
Comment us your favourite design from the above.
Check more such articles below
Daily Wear Modern Gold Bangles | Latest Exclusive Designs
Antique Designed Bangle Collection By Aabushan Jewellery