Mangalsutra designs have been updating in the recent times. No longer anyone wants to own a heavy mangalsutra. Everyone is looking to get something trendy, light weight and suitable to match with traditional and modern dresses.
We have collected few new design 8 gram gold mangalsutra designs for you to choose from. They are designed to make it simple and easy to wear daily without hassle. They are light weight and be matched with modern and traditional outfits.
8 Gram Gold Mangalsutra Designs
This is a simple black chain with a small gold pendant to wear daily.
Price – Rs. 53, 667/-
This is a trendy mangalsutra who loves to have more gold added to the traditional one.
Price – Rs. 57, 019/-
The pendant of the mangalsutra are becoming more modern and trendy. For instance this beaded pendant looks modern to match with all modern outfits.
Price – 56, 846/-
If you are saree lover and want a matching mangalsutra then you should choose this one. It has a small hanging pendant that looks chic.
Price – Rs. 54, 592/-
If you want to add a more feminine touch add diamonds to the pendant. It is perfect to wear for a party as well.
Rs. 56, 274/-
Layers of chain is becoming trendy nowadays. This is perfect for any party or function. Just this chain is enough and there is no need to wear any heavy necklace. This can be matched with gold bangles and earrings and you are ready for a party.
Price – Rs. 56, 172/-
If you are looking for a traditional design, then go for this mangalsutra with small beads that looks simple and cute.
Price – Rs. 57, 383/-
Double chain gold and black beads long mangalsutra chain is perfect for saree lover.
Price – Rs. 56, 302/-
If you want to more color to your mangalsutra then choose these red beads and white pearls
Price – Rs. 58, 187/-
Thin chain is very light with glamourous pendant. It is very trendy. You can wear daily to work and will perfectly match with your office outfit.
Price – Rs. 52, 590/-
Price – Rs. 55,037/-
For gold lovers this is the best choice. If you want very less black beads and more of gold, then go for this design.
Price – Rs. 54,763/-
If you like variety in pendants then go for this unique pendant. This looks classic with a contemporary touch.
Price – Rs. 66,096/-
Price – Rs. 61,628/-
If you love sleek and trendy designs, then choose design of Tanishq which looks modern.
Price – Rs. 63,237/-
Price – Rs.62,351/-
If you want very less beads then you can choose this design. It has black beads only on the pendant.
Price – Rs. 58,325/-
If you love intricate designs, then try this minutely designed mangalsutra where after each black bead, there is a beautiful crafted design. The golden balls are also engraved with lines and curves with a small hanging.
Price – Rs. 57,507/-
Price – Rs.64,826/-
Price – Rs. 58,144/-
Who doesn't love a heart design? And when it is designed on a mangalsutra, it become all the more special. This stunning piece gives a lovely feeling to wear with small hearts designed.
Price – Rs.68,925/-
Price – Rs. 64,600/-
Price – Rs.60,775/-
If you want a heavy pendant with a simple black beads chain, then your search ends here. This piece is very elegant.
Price -Rs.61,626/-
Price – 58, 481/-
Few more heart designs placed on the mangalsutra.
Price – Rs.61,679/-
Price -Rs.61,958/-
Price – Rs.60,428/-
Price – Rs.66,537/-
This mangalsutra is designed alternatively placed with gold and black beads. It looks crafted expertly to give equal importance to both. The dollar is kept simple with a cute hanging.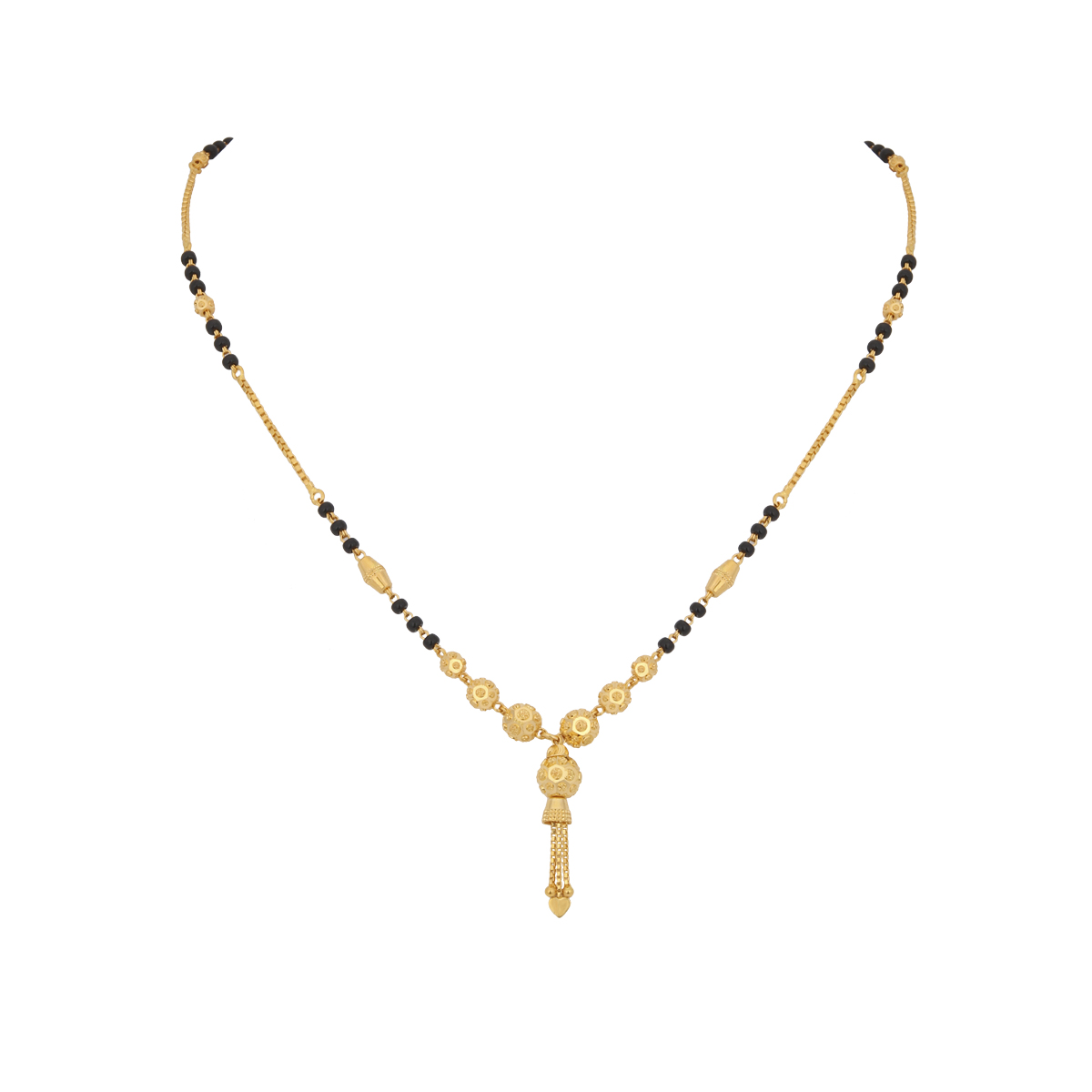 Price – 57,561/-
We wish you loved these designs and you got great ideas to design your perfect mangalsutra. Comment us which is your favorite design from the above collection.
Check more related articles below
Trendy Black Beads Mangalsutra By South India Jewels!
Stunning Mangalsutra Design With Pendant By Aabharanam
Gold Mangalsutra From Manubhai Jewellers