If you have been following this blog, you would have known our obsession towards South Indian Jewellery designs. In fact we named this as 'South India Jewels' because of our love for the traditional bold gold jewellery that are rooted in South India.
Over a period of nearly three years, we have featured huge number of designs that captivated our mind. We just wanted to share this to fellow women on where they can find these gorgeous jewellery designs to shop.
Now today post is about curation of 25 jewellery models that are the best among the various designs we have posted here. Having a design like this on the jewel box is such a boon.
Our list consists of exotic mix of antique, temple, diamond and CZ stone jewellery that are a true spectacle to behold in eyes.
We hope even if you have missed out our earlier post, this article would unearth some gem of piece from our catalogue. Without wasting time, let's see some designs which us swept us off with its beauty since we started this blog.
Ruby sets are in rage this season. That too, a classic antique piece studded with kemp rubies is so hard to resist by any women.  Here is the gorgeous ruby antique jewellery consisting of bold vadanam, long haram, tikka, jhumka and a mind-blowing kada style bangle from Tibarumal Jewellers!
This gorgeous piece from Naj Jewellery is a proof that how jewellery set can be both traditional and trendy at a time. It consists of a beautiful antique designer choker and ball haram studded with stylish kundan stones.
Let's give the CZ stones its due attention and reward. They bring a diamond like appeal to your jewellery which is probably why many fell for this jewellery. Here is a sparkling necklace and layered long necklace set, adorned with white CZ stones and highlighted with rubies.
This majestic diamond set blow our minds off when we first spotted it. It comprised of densely studded diamond choker, long necklace, jhumkas, vadanam, arm bands and nose pins. Priceless!
Here is an antique set consisting of classic kasu haram and a bold gold necklace graced with rubies and emeralds. This enchanting set from Murali jewellery is something that is bound to take your traditional saree style to next level.
While temple jewellery is predominately studded with kemp stones, this antique piece from Naj came as a pleasant surprise for the exotic kundan stones here. The long lakshmi haram and the choker is just the right choice which modern bride would love to pick for her special day.
This year's most sought after jewellery motif is birds! This peacock embossed necklace, haram and jhumks would delight anyone who love pleasant motifs to adorn their jewellery. This one gram set is from Subham Pearls.
Pearl never ceases to amaze us. When they are used along with diamonds it is a pleasure to wear. Here below is a fabulous diamond necklace and bold pearl haram from Naj that would make a statement with any outfit.
The long pachi haram and designer CZ stone peacock necklace is set to turn all attention to the one who carries this off. This item can be shopped from NAJ jewellery.
Here below is another most authentic temple jewellery set from NAJ consisting of goddess lakshmi coin necklace and haram studded with rubies, emeralds and embellished with antique balls.
This is adorable bridal jewellery set from Simma Jewels. This is a gold plated one, so for the brides who are looking for less expensive options than gold, then this traditional kemp jewellery set will be a best bet.
When temple jewellery designs are embossed on classic coin necklace, it is surely a winning combination. Moreover, this royal set has pearl cluster embellishment that is hard to take your eyes off. This gorgeous set is from SK Jewels.
This majestic gold jewellery set is from the VBJ's bridal collection. It comprised of latest model necklace, haram, jhumkas, ottiyaman and bangle.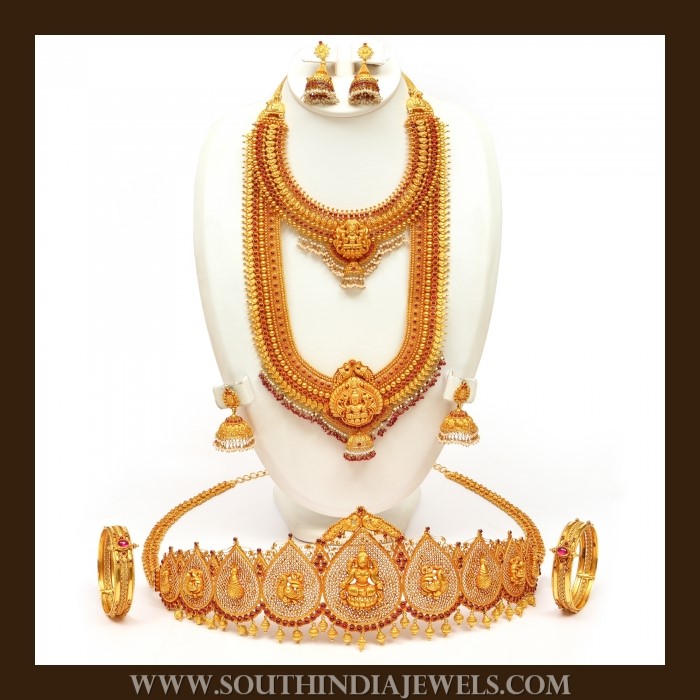 It gets quite exotic when you wear a bold ruby necklace followed by a slim coin haram with side locket like below. This bold piece is from Anagha jewellery is a treasure to own.
And for those who are into simple and fine models, this gorgeous set from Dinesh jewellers will excite you. It has the glistening white stone studded short necklace with an equally catching oxidized pachi long necklace.
The traditional nakshi work has still not lost its charm. If you plan to shop temple jewellery, do get it done with nakshi work like below. If you plan to buy this same model, you need to check with SK Jewels.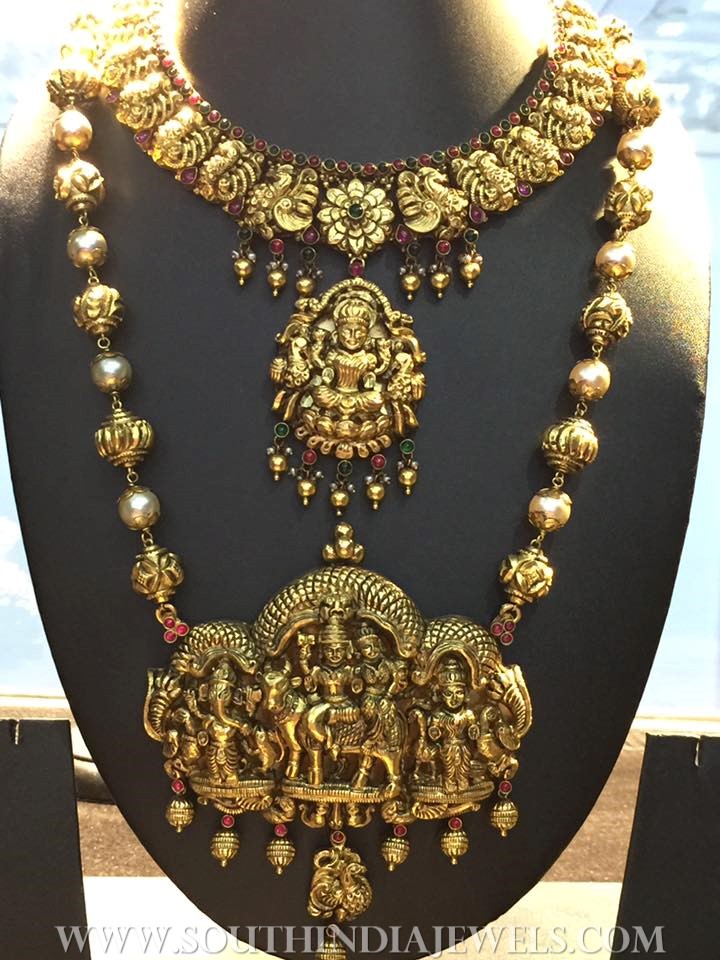 Here is a modern rendition of nakshi jewellery by NAJ. It has kundan studded designer choker with a modern long haram studded with stones and pearls.
This attigai style imitation set from Shobha creations is such a wonderful traditional jewellery style loved to be flaunt by any women.
While temple jewellery is more of kemp and nakshi finish, this gold plated set from RS designs stood apart from the crowd for its rich appeal and traditional touch.
How can we forget the classic mango set. The past two years, we have seen quite a delightful range of mango necklace collections, but this beauty from Simma jewels is surely a winner in the crowd.
Well, probably we are getting obsessive with NAJ jewellery I guess. It's because we can't stop praising their collections. Here is a beautiful ball haram set with a matching choker and earrings from their latest bridal collection.
This is again from NAJ. Their diamond jewellery collection is as alluring as their temple and antique collections.
This simple spike set is probably the most inquired antique model from us. This design has been published a long before. But we get inquires till now on how to get this model, which means, it is definitely a stand out design for jewellery lovers.
These are some of South Indian Jewellery design we love from our catalogue. Each of the models is unique and creative to the core. And we know many couldn't stop lusting over it. So in case, if you like to inquire these collections, all the seller details are given below.
Seller Details
Seller name : Tibarumals Jewellers
Contact No : +91- 8885085055
Email : tibarumal84@yahoo.co.in
Seller Name : NAJ Jewellery
Address : 957, Jewel Junction, Achari Street, Nellore 524003.
Contact No : +91-861- 2331123 I 2331323
Email : mynaj@najindia.com
Website : http://www.najindia.com/
Facebook : https://www.facebook.com/najjewellery
Whatsapp :9032041323
Seller Name : Vummidi Bangaru Jewellers
Address : AB 149, 3rd Main Road, Anna Nagar, Chennai, Tamil Nadu 600040
Rani Seethai Hall, First Floor, 603, Anna Salai,Chennai – 600 006.
Contact No : 044 – 2829 2003, 2829 2004, 044 – 49033355
Website : http://www.vummidi.com/
Seller Name : Anagha Jewellery
Website : http://www.anaghajewellery.com/
Contact No : 99496 31133
Seller Name : Shobha Creations
Contact No : 098414 96766
Seller Name : Simma Jewels
Contact : +919790646772
Facebook : https://www.facebook.com/Simma-Jewels-430127563820835/
Seller Name : Shubam Pearls and Jewellery
Contact No : +91-9030271018
Facebook : www.facebook.com/shubampearlsandjewellery
Instagram : https://www.instagram.com/shubampearls
Email : shubampearlsandjewellery@gmail.com
Seller Name : RS Designs
Contact No : 9940157478