Pearls, the little cute thing can add such a grace to any Indian traditional gold jewellery. Though its presence is often welcomed in necklace, earrings, and bangles, women mostly love to flaunt it on chains aka pearl malas.
These pearl stringed gold chains have such a unique appeal when worn with any Indian traditional outfits.
Take sarees, salwars, kurthas, lehenga or any other ethnic ensemble, these pearl chain can sit so comfortably on it adding a royal touch to the overall look. To make it even more vogue, pair it with a complimentary ear chains.
Besides, pearl do gel with dresses of any shade. It could be a deep green silk saree or a beige designer one, or simply a yellow anarkali suit, you can absolutely flaunt your pearl jewellery with any hue.
In short, the versatility of pearls is quite insurmountable. Get a single dashing pearl chain, and you have added a fine design to your jewellery collection.
So if you are captivated by pearls and want to invest on a good looking pearl stringed traditional chain, then do check out picks below.
These latest pearl chain designs will give you an idea on what design you should be looking for this year. In case if you like to shop any of the below design, you can find the seller contact details at the end of this post.
Now time to check out 23+ stunning gold pearl chain models.
This is a beautifully crafted long haram sort of chain with multilayer gold chains stringed with beads of different size. All of these chains are stringed to an edgy side locket. These kind of multilayer haram/chains are quite popular this year. So do get this on attractive pearls.
This is a 22k gold bold pearl mala embellished with antique nakshi balls in-between. To make this mala more beautiful, it is graced with a peacock pendant studded with white stones and emeralds. This is a kind of pearl chain that would go well on anything from sarees to festive lehengas.
Though pearl itself a delightful beauty on any gold chain, mixing it with fine rubies, emeralds and even sapphire beads could be totally attractive like the collections below.
If you like simple pearl chain models, then we highly recommend getting your gold chain adorned with pretty south sea pearls and antique balls. Depending on your taste and personal style, you can choose the size of the pearls here.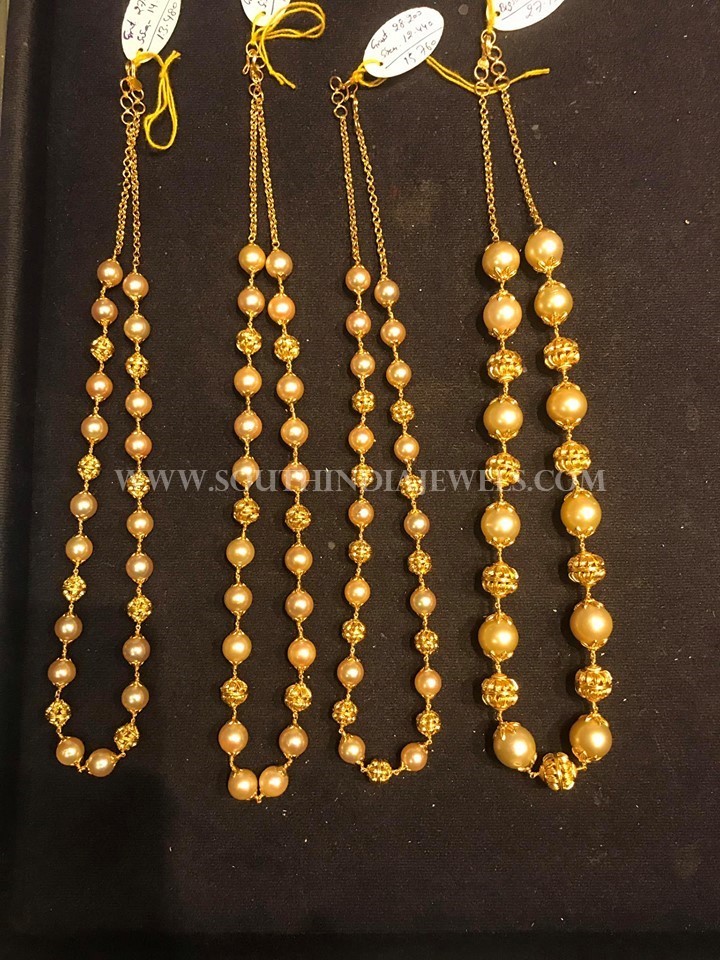 This is another gorgeous pearl chain necklace highlighted with the presence of rubies and emeralds. This can be a remarkable accessory to flaunt with your sarees, half sarees, lehengas and anarkalis.
If you like to have a colorful neck-piece, then we do recommend having a step chain necklace, with one row studded with colorful gem stones and the next row graced with medium size south sea pearls.
For a better highlight, get your gems and beads on oval shape. So when it is adorned with a round pearl on a chain, the design is set to look outstanding.
Here is a simple and light weight short chain necklace graced with pearls, tiny rubies and emeralds.
If you are bored of the standard gold necklace with pendant, then these layered pearl chains can be a blessing. They look more grand and sophisticated to wear with any dresses.
This year's most sought after gold necklace model is the multilayer chain necklace locked together with elegant side lockets. Get these layers in pearls and stay in trend.
Here below is another unique pearl chain necklace model with emerald beads used for subtle highlighting. Imagine wearing this beauty with your green sarees? Quite a delight isn't it?
If you like to choose a design that is trendy and stylish to wear with modern dresses, then do take a look on this bold yet super delightful pearl chain. You can even replace those bold emeralds with any other bold bead of your choice and match it with your outfit.
Here is another contemporary gold pearl chain mala that goes well with any traditional outfit.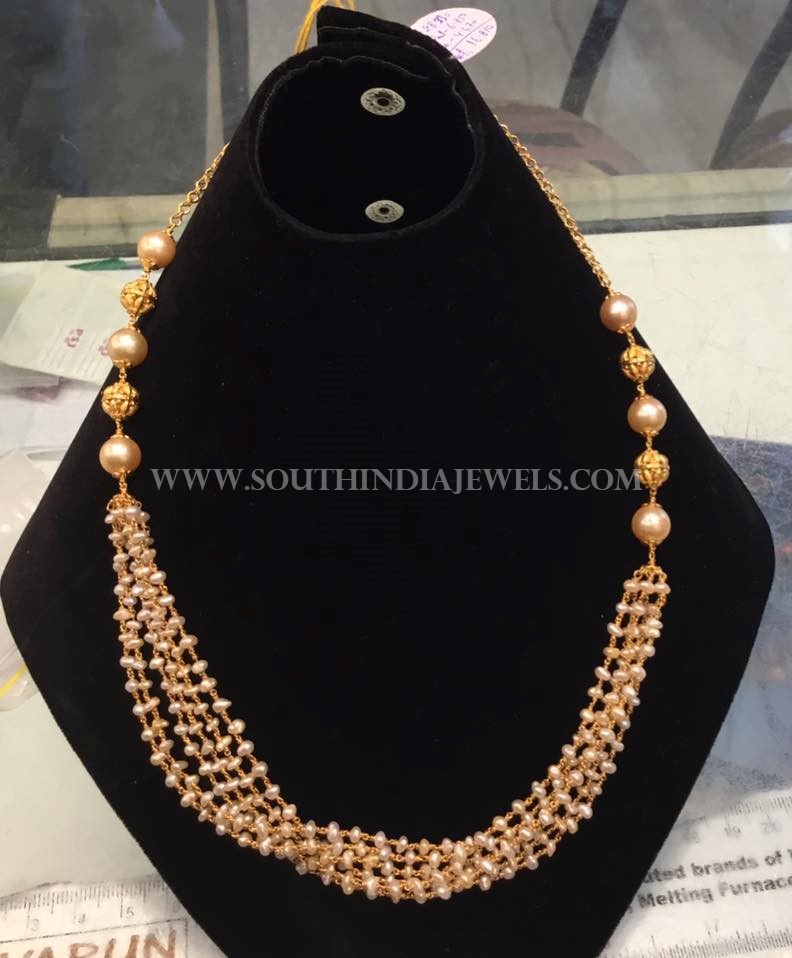 If you have been looking for a model that you can wear to your college or office then take a look on the below light weight pearl chain. It is a perfect one to wear with any formal clothes, and also it can be worn daily!
This is a gorgeous double layer pearl chain necklace with white stone studded peacock pendant. Instead of bold gold harams, try this beauty with your traditional dresses.
This light weight super trendy shot chain necklace is made of tiny white pearls and rubies & emerald beads. This is a sort of jewellery that every college goer would love to own.
Here is another striking gold mala with just right size of pearls and gold beads. If you wear your white and off-white dresses with this, you are sure to catch all the limelight.
This is a short necklace design studded with pearls and polki stones.  Without age barriers, this sort of design would look good on any one.
Multiple layers of pearls interwoven with layer of precious white stones or rubies or emeralds is another modern design that has been going crazy this season.
Do you love guttapusalu? Then this short version of that classic necklace is quite a blessing for those who love simple designs to wear instead of bold jarring one.
Here is another huge long chains donned with rubies, emeralds and pearls. This is a kind of design that you can pass on to your daughter giving it a heirloom status.
Well! These are some stunning traditional pearl chains/malas/necklace collections that are getting lots of attraction. So if you plan to buy the above designs, then do check the seller below.
Seller Name : Premraj Shantilal Jain Jewellers
Address : POT MARKET Opp BATA Rp road,Hyderabad, India 500025.
Contact No : 9700009000, 9951000005
Website : http://premshantijewels.blogspot.in/
Facebook : https://www.facebook.com/premrajshantilaljainjewellers/
If you like to add any more design, do let us know. We will be glad to update this list.